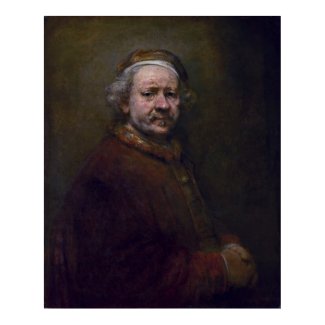 Rembrandt Harmenszoon van Rijn - Self-portrait Print
by
art_poster
Make
custom prints
online at zazzle.com
REMBRANDT was born at Leyden in 1606, and his family enjoyed enough prosperity to permit him to choose a career. Academic life at the University of Leyden was not congenial. At the age of fourteen he was apprenticed to a Leyden painter named Swanenburg and later to Pieter Lastman, from whom Rembrandt learned the craft without absorbing very much of his master's artistic formulas.

By 1632 his reputation was so well established that he found it expedient to move to Amsterdam. Here commissions awaited him and great demands were made upon his activity. He founded a studio, accepted pupils and assistants, and soon became Amsterdam's most flourishing painter. It was then that he married Saskia Uylenburch, daughter of a wealthy and important family.

Saskia died in 1642. It had been around her that Rembrandt's life revolved, and it was then that he began to drift away from the life of his times.
The vagaries of his subsequent career--living in common law with the patient, understanding Hendrickje Stoeffels, his financial failure, and abject poverty--have been told and retold with perhaps too much melodrama and more with the adornment of legend than of fact.

As Rembrandt's prosperity and popularity diminished in the later years of his life, the quality of his art improved. The sweep of his brush became broader, his psychological insights became more penetrating, his sense of the dramatic more acute. His later painting was neither understood nor appreciated by his contemporaries; in the strictest sense it should be interpreted as a personal revolt against their canons of taste.