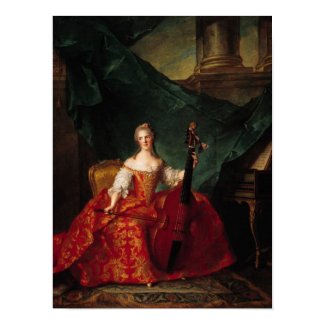 Madame Henriette de France in Court Posters
by
bridgemanart
Look at Jean marc Posters online at
Zazzle.com
JEAN-MARC NATTIER received his first instructions in drawing and painting from his father. Although his skill in portraiture was early in evidence, his first important commission was the engraving of the Rubens' paintings in the Luxembourg Palace for Louis XIV. In 1716 he traveled to Amsterdam to paint the portrait of Peter the Great, and to the Hague where he painted the Czarina. Reduced to financial straits by a prolonged study of the Dutch masters, the repercussions of the bursting of the John Law bubble left him with no resources but his talent. He promptly turned it to account in portraiture; and winning favor from the court of Louis XV, succeeded the painter Raoux, on his death, as the favored painter of the fashionable world.
Nattier served his patrons well. To flatter his subjects had become his aim; and by the delicacy of his drawing and color he achieved it. Employing a time-honored expedient of portrait flatterers he bestowed classical divinity on his sitters, and thereby on the court itself the glory of Olympus.
Nattier outlived his vogue. He died in obscurity in 1766.